SURVEYS SUBMITTED BY MPA WATCH VOLUNTEERS TO DATE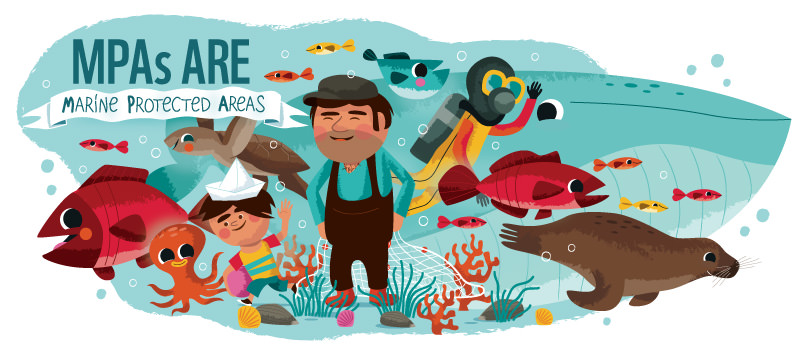 What is an MPA?
Just as parks on land protect special lands and wildlife from overdevelopment and hunting, these underwater parks preserve California's stunning marine ecosystems for future generations to observe and enjoy. NOAA's first female chief scientist, Sylvia Earle, believes these protected areas are the key to the health and future of our oceans. "I wish you would use all means at your disposal – films! expeditions! the web! more! – to ignite public support for a global network of marine protected areas, hope spots large enough to save and restore the ocean, the blue heart of the planet." These areas play an important role in restoring ocean life threatened by overfishing, pollution, and habitat destruction.
California's coast and ocean are among our most treasured resources. The productivity, wildness and beauty found here is central to California's identity, heritage and economy. California MPAs were designed by local stakeholders with guidance and feedback from scientists, managing agencies, experts, policymakers, and the general public, to achieve goals set forth in California's Marine Life Protection Act (MLPA). MPAs conserve biological diversity and protect a variety of marine habitats, communities and ecosystems for their intrinsic value, while allowing for human use of marine resources. By protecting sensitive ocean and coastal habitat, marine life flourishes and, in turn, creates a healthier system overall.
California now leads the nation and the world in ocean protection, ensuring the preservation of ecosystems along the coastline of California.
What do MPAs do?
Protect and sustain marine life, habitats and ecosystems. Science proves that MPAs allow fish to thrive by protecting ecosystems, not just individual species. California's ocean creatures enjoy a state-long series of refuges where they can thrive undisturbed.

Provide opportunities to learn from and enjoy marine areas subject to reduced human disturbance.

MPAs leave the vast majority of the coast open for fishing.
Types of MPAs
Currently, MPAs protect less than 3% of all ocean waters. There are various types of MPAs throughout the globe with varying goals for ecological success. Each protected area is vastly different from the next, resulting in different rules and regulations of how people can use that area. Size, location, and type of regulations in MPAs depend on the goals of that site. The graphic below shows and example of what MPAs might look like around the world.
California Marine Protected Areas are divided into:
State Marine Parks, in which commercial fishing is not allowed, but recreational fishing is
State Marine Conservation Areas, in which both commercial and recreational fishing are allowed in limited amount
Marine Reserves, in which no fishing or collecting of any kind is allowed

Pictured: Features of MPAs worldwide, courtesy Ocean Health Index
What can you do in an MPA?
Non-consumptive activities such as diving, surfing, swimming, kayaking, and boating are allowed within MPAs.
For more information about regulations in your local MPAs, visit the Department of Fish & Wildlife's website.
Marine Life Protection Act In California
In 1999, California made history when the Marine Life Protection Act (MLPA) was signed, directing the California Department of Fish and Wildlife to redesign its system of marine protected areas (MPAs) to increase its coherence and effectiveness at protecting the state's marine life, habitats, and ecosystems. Bringing together scientists, fishermen, conservationists, business owners, residents, and Fish & Wildlife officials, it created a long-term plan to restore and protect California's most unique and threatened marine environments.
You can help
California residents are embracing MPAs and joining local efforts to monitor them. They are making a difference in ocean protection — and you can too! Help support Marine Protected Areas by joining a MPA Watch Program. The groups of volunteer organizations below monitors the use of coastal and ocean MPAs, providing a priceless look at how people are using these new conservation areas.
Thriving protected areas also provide a great environment for swimming, kayaking, diving, snorkeling and tidepooling, so make sure to enjoy yours!
Eagle Eyes of False Klamath Cove
Why Monitor MPAs?
Monitoring MPAs is important in order to make sure that these areas meet the goals of the MLPA, facilitate adaptive management in the future if adjustments need to made, and to improve our understanding of coastal marine ecosystems.
Data from community science projects like MPA Watch will complement data collected by other monitoring groups, resource managers, scientists and the Department of Fish and Wildlife. Ecological, economic, and social are just a few types of data that will be collected to provide a comprehensive picture on how the MPAs are functioning. This data will also help us to understand where there may be a need for enhanced education and outreach, signage, and law enforcement.