SURVEYS SUBMITTED BY MPA WATCH VOLUNTEERS TO DATE
Eagle Eyes of False Klamath Cove

Eagle Eyes of False Klamath Cove
Trains volunteers to collect data on how humans are using marine resources both inside and outside marine protected areas (MPAs).

Data collected by volunteers provide important information to understand how people are using local MPAs, and to help inform Tribal and MPA management.
Eagle Eyes of False Klamath Cove (EEOFKC) trains volunteers to collect human use surveys at sites in Del Norte County. EEOFKC volunteers collect data on all human activity in the water, on the beach, in parking lots, and along the highway in one-hour increments over the course of 12 hours. As part of their more robust surveys, EEOFKC contributes data to the California MPA Watch network in an effort to create a statewide snapshot of how humans are using coastal and marine resources inside and outside of MPAs.
Contact: Ruthie Maloney – ruthiemaloney@gmail.com
false klamath cove
Located in rural Del Norte County between Klamath and Crescent City, False Klamath Cove (FKC) is a special place, home to a myriad of marine life.  Boulder fields dot the sandy beach that remains a little coastal safe haven, despite being only a few yards from highway 101, one of the major travel routes in California. 
How are data collected?
EEOFKC and MPA Watch volunteers park alongside Highway 101, on the east side of the road at a place, called the "perch," observing and surveying, collecting data and recording all offshore and onshore coastal activities within and outside False Klamath Rock Special Closure. Volunteers are trained to recognize different types of activities, using binoculars to view activities offshore and onshore, and to record what they see on data sheets.
 Similar data may be collected at sites such as Pyramid Point SMCA, Point St. George Reef Offshore State Marine Conservation Area, Southwest Seal Rock Special Closure, and Castle Rock Special Closure.
Examples of activities that volunteers record include consumptive activities such as commercial and shore fishing, and non-consumptive activities such as swimming, tide-pooling, SCUBA diving, and wildlife watching. Volunteers are trained to accurately begin and end their surveys, as well as to identify MPASC boundaries.  All data that is collected undergo rigorous quality assurance and quality control protocols by coordinating organizations before being accepted and shared.  
EEOFCK Manager Ruthie Maloney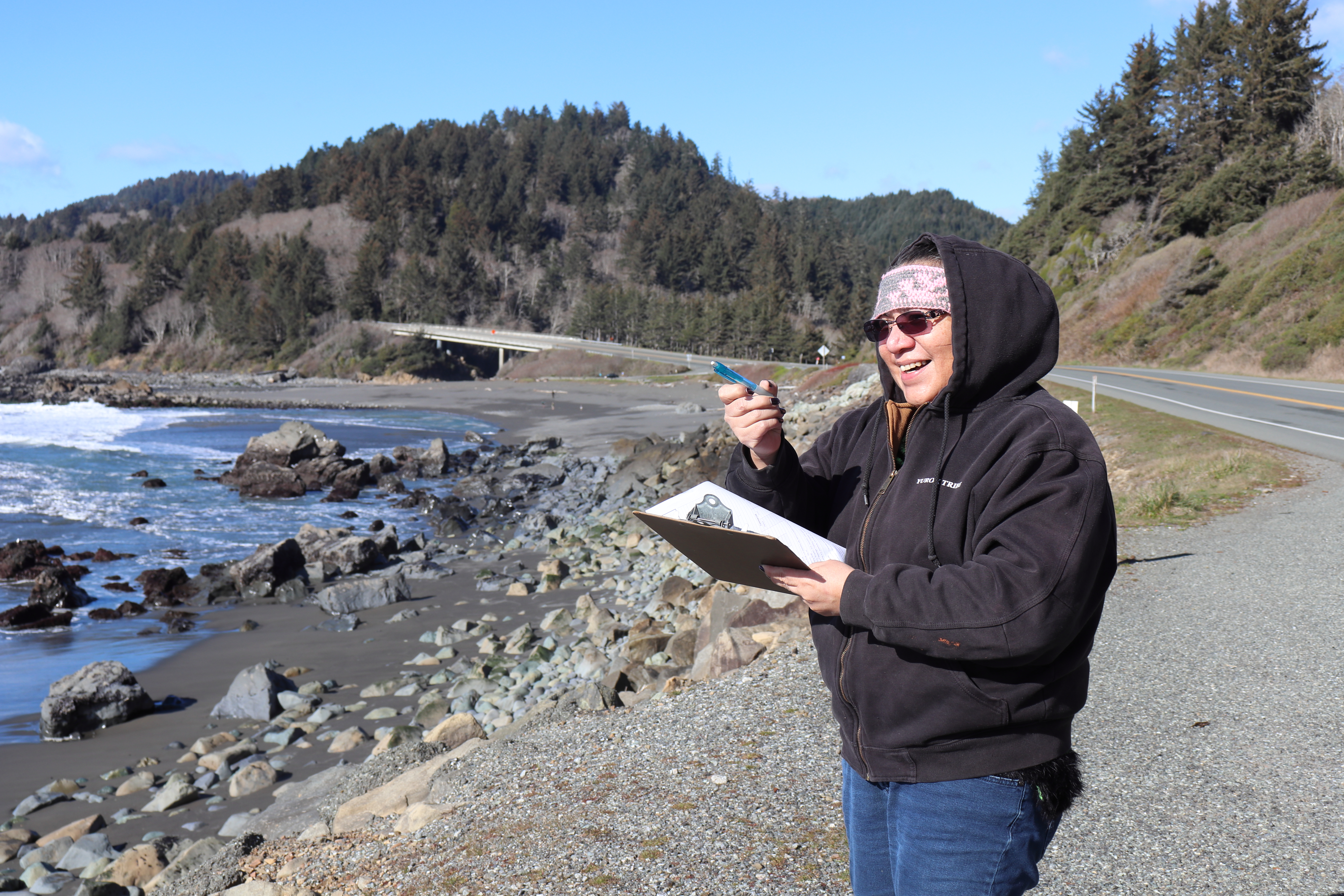 False Klamath rock special closure
Tidepoolers, anglers, and tourists visiting the beach can witness a frenzied spectacle of birds just offshore on the impressive FKC Smoke Stack Rock, a well-known rookery for nearly 45,000 birds. This small but important sanctuary protects at least eight different bird species, including double-crested cormorants, black oystercatchers and tufted puffins.  Under the Marine Life Protection Act, Smoke Stack Rock was designated as a special closure area with 300-foot buffer zone, from March to August every year.
local study Area
Eagle Eyes of False Klamath Cove, in partnership with the Del Norte MPA Collaborative, Tolowa Dee-ni' Nation, and RAM Consulting, currently manage survey sites at:
Pyramid Point State Marine Conservation Area

Point St. George Reef Offshore State Marine Conservation Area

Southwest Seal Rock Special Closure

Castle Rock Special Closure

False Klamath Rock Special Closure
MPA Watch Survey sites in del norte county